The story I will tell you about today brings us back to 2016. At that time Xavier and I were not married yet. And we were far from being professional photographers. We were living in Wales, UK. I was doing a PhD in bioinformatics at Swansea University. Xavier was taking his first steps with landscape photography. I proposed to him during this trip, and 2 years later we were married ! I will tell you everything here, and show you some of the pictures we took during this trip. Xavier just re-edited them so that I could include them in this post. Indeed he is way better now at editing than he was 4 years ago. His style matured, so he can't look back at those pictures and be satisfied with them.
Planning ahead
Planning the trip
When Xavier and I heard of the new airline linking Bristol to Reykjavik for a very reasonable price, it did not take us long to book our tickets. Seeing the northern lights was a dream for us. And here was our chance to see them for real. Everything was booked in advance from accommodation to car rental. We wanted to avoid last minute expenses. And a lot of things were cheaper when booked in advance.
Planning the proposal
We never really thought about getting married. And people actually never really thought we would. We don't want kids, don't want to buy a house. Conventions were never good enough reasons for us to do anything. But we have been together for already more than 10 years at that time, and I thought : "Why not ?" Ok more things happened in my head, but I'll spare you the details. So I contacted one of my highschool friends who was studying jewelry and asked her if she would make his engagement ring. It had a lot of meaning for her to make this ring. Indeed Xavier and I met in highschool, so that friend was there when we made our first steps as a couple. I measured his finger while he was sleeping. Then I hid the ring somewhere safe and planned asking him during this trip because it would be more memorable than in our living room.
Landing in Iceland
Finally, on a Wednesday afternoon of October, we landed on the land of ice. Which welcomed us with wind and rain so strong we couldn't walk straight. We were soaked, and couldn't see anything further than a few meters ahead. But this was not going to get our enthusiasm down. I mean, we were living in Wales for 2 years. We were certainly not afraid of a bit of cold, water and wind. Luckily though it was not going to be like this for our whole trip.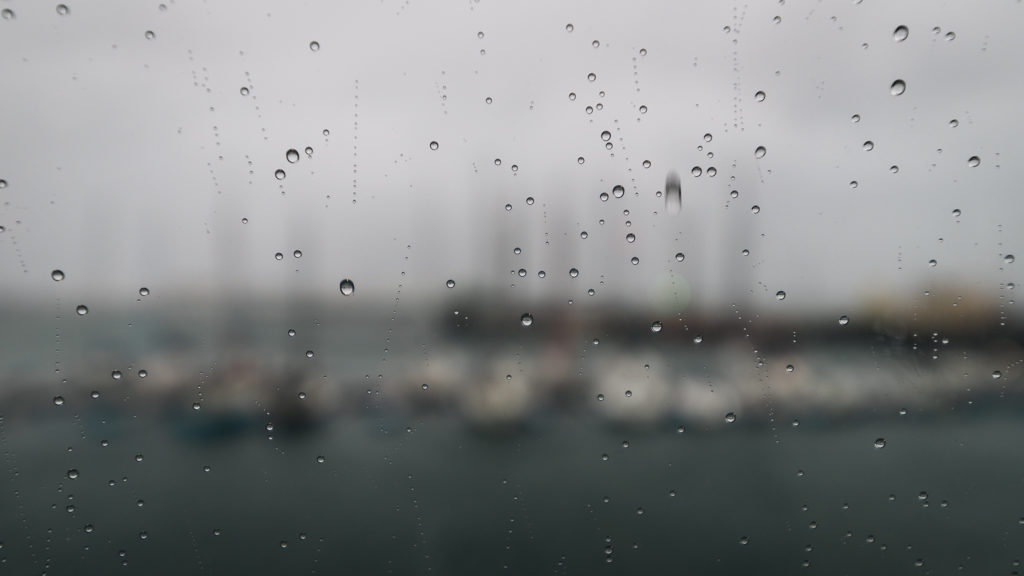 First steps on the island
The famous kirkjufellsfoss
For our first day we aimed north. A few hours from Reykjavik, in the Snaefellsnes peninsula, runs a waterfall named Kirkjufellsfoss. Yes, it's the right name. No I didn't sneeze. Get used to it, because the worst is to come regarding names you can't pronounce. Once again, after living in Wales, one gets used to consonants. Behind the fall stands a very distinctively shaped mountain. A perfect spot to take pictures!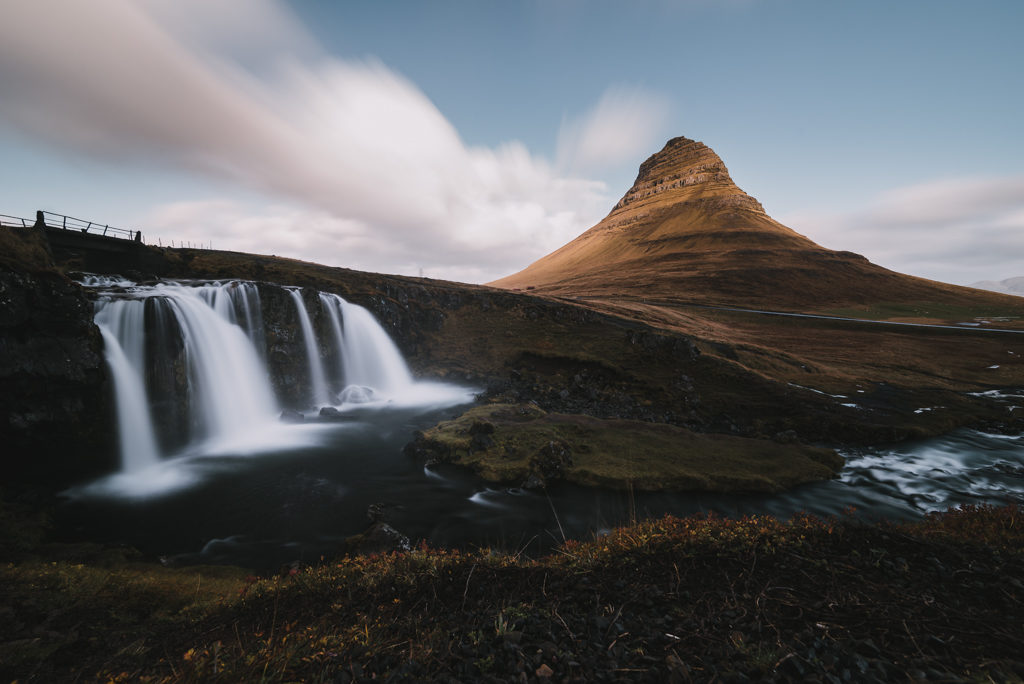 We even saw a couple there taking their wedding pictures. A very brave bride to walk in a dress like that one, with such a strong wind blowing! Of course it reminded me of my little secret iceland proposal mission. But I didn't want to do it know. It was too crowded. And I would have plenty of other opportunities, did I tell myself.
Rainbows in Iceland
After that first stop, we drove around the peninsula, stopping from time to time. One good thing about the changing weather, as welsh people also know, is that you get to see nice rainbows. We were lucky enough to see one right on top of a little church named Ingjaldshólskirkja. This church is the oldest concrete church in the world, and was built in 1903!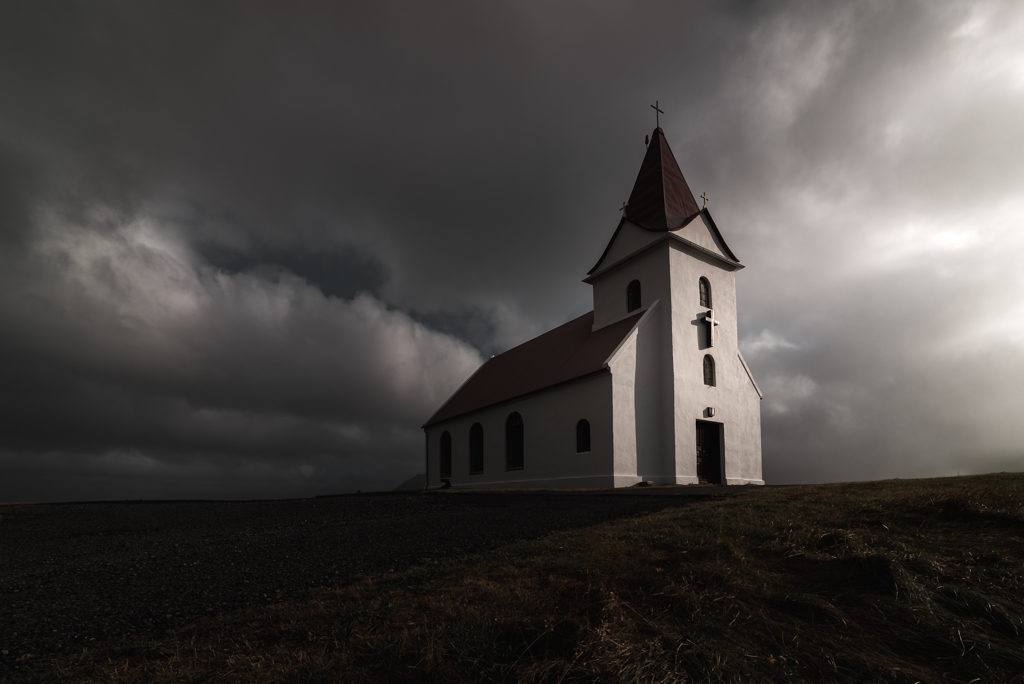 While Xavier was trying to get a good angle for his shot, my brain was all other the place. "wow that's such an impressive rainbow… and this chapel is so cute… I could do it here and now… And there is no one around… but do I have time ?… I am sure the rainbow will disappear if I get the ring out and it will lose of it's charm… oh well, there is a guy now… I can't propose with just one guy around, he will feel bad for interrupting… oh it's too late, the rainbow is gone…" So this was not the right place for my proposal in Iceland. But I came close !

The golden circle – Part 1
Þingvellir, a viking place
On our second day we traveled around what is called the golden circle. It's a circular trip taking you through some of the most interesting places in South West of Iceland. Lots of tourists around, but definitely worth the view! Our first stop was Þingvellir. The national historic site of Þingvellir was an extremely busy place in the Viking times. And the foundation of the Icelandic parliament also happened right on that spot. Moreover it is also geologically fascinating, as this place is actually a rift valley! You can see the continental drift of two plates, happening in front of you. But at a rate of 2 centimeters a year, it's so slow you can't notice.
Brùarfoss, a secret photographer's spot
A little gem hidden in the Icelandic is the Brùarfoss waterfall. This is not one of the golden circle famous sites, but it's even better ! Indeed it is much quieter than the other sites. Almost only photographers get into the trouble of finding this turquoise waterfall lost in nature. Not a surprise, as you have to walk in mud without any indication about directions. It's a very calm place so beautiful to watch. Colors are so vivid you wouldn't believe there are real.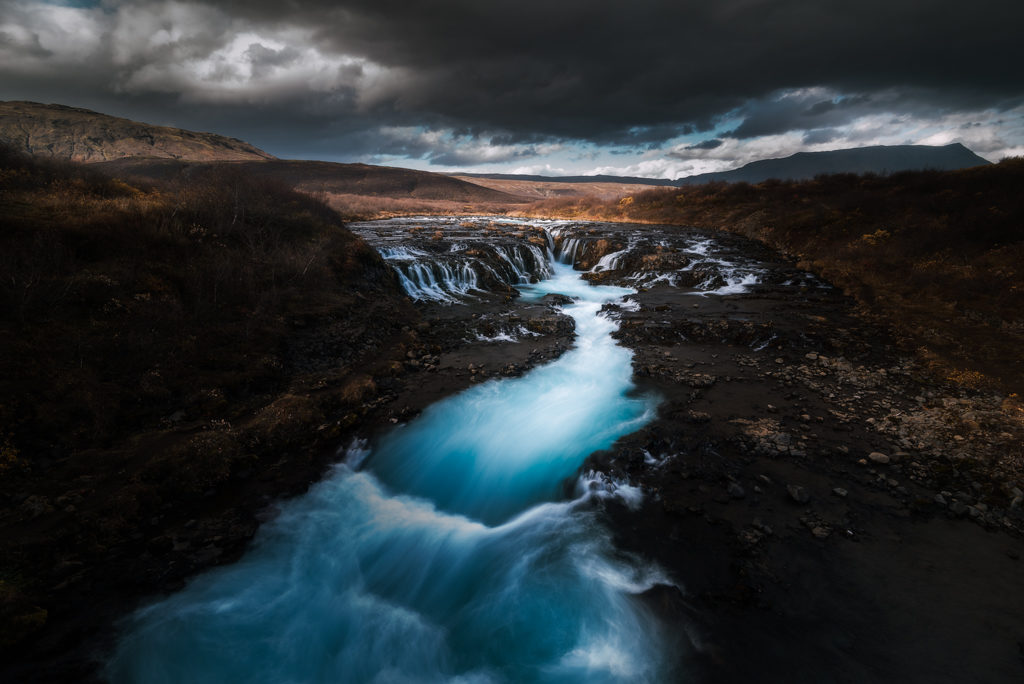 We stayed quite a while there. Only a couple of photographers and a herd of icelandic horses took us company. After the crowd we just saw in Þingvellir, it was a relieve. And I thought it would be a perfect place to propose. So I promised myself I wouldn't chicken out. I would propose to him as soon as there would be no one around. I know he doesn't like being the center of attention. So I didn't want him to feel observed in this moment.
Proposing to a photographer
We were not professionnal yet, but photography was already his passion. So I thought of a way to propose that would make a nod to photography. I innocently asked if he could take a picture of us in front of the waterfall. That was a risky move, as we almost never take selfies. But he did not suspect anything, and set things up for a picture with self-timer on the tripod. As I know pictures with self-timer are rarely perfect at first try, I let him take a couple first. On the third one, right before the camera shot, I took the ring out and proposed, one knee on the floor, trying not to fall in the river.
So we have a picture of the proposal. It's the actual proposal picture, not a remake. He said yes, of course. But he did tell me if he had known it was a proposal picture he would have been more attentive to the composition. Anyway I like it the way it is : spontaneous.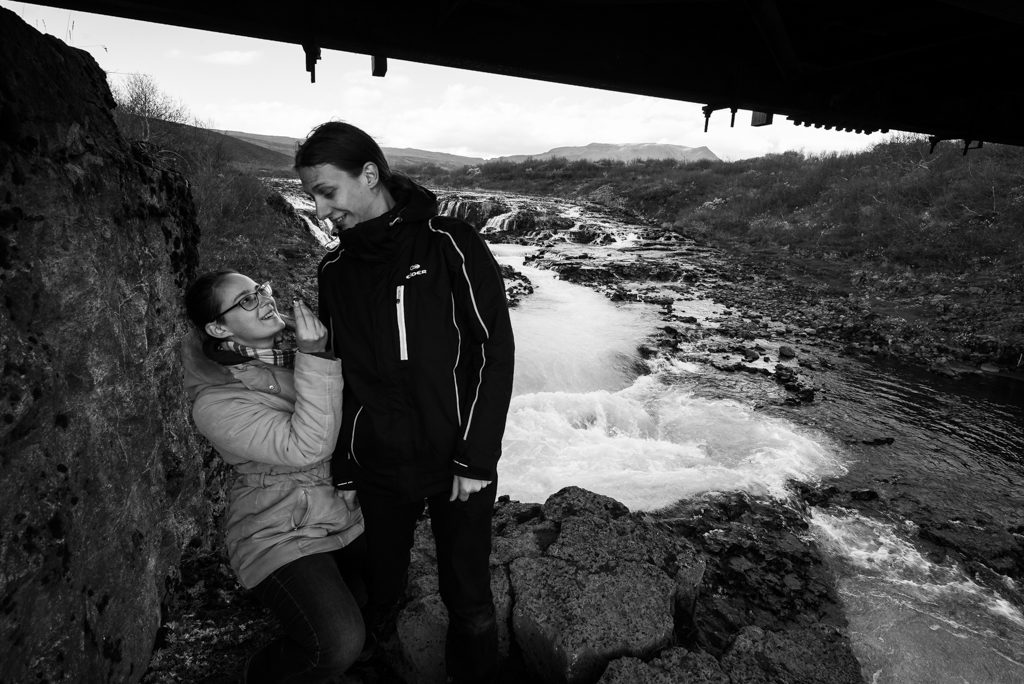 Strokkur geyser
After this little break away from the crowd, we stopped at the geyser Strokkur. Quite an exciting thing to watch!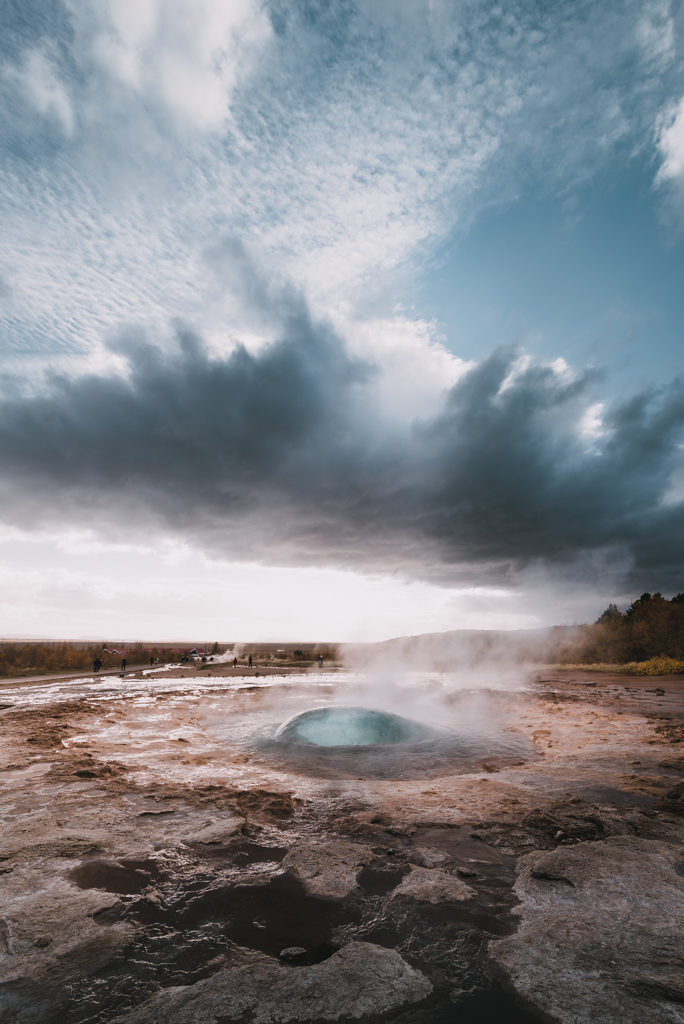 We got to observe the water in this hole in the ground, moving up and down. As if there were some mysterious creature living and breathing underneath. Then a bubble was forming under the water. And suddenly it burst into a majestic 30 metres high column of steaming water.
Gullfoss waterfall
The last stop on this proposal day in Iceland was Gullfoss, a very powerful waterfall. Taking pictures there was quite a challenge, as we were surrounded by the spray from the fall. The sound of the water falling was deafening. It is truly impressive and you feel really small in front of this waterfall.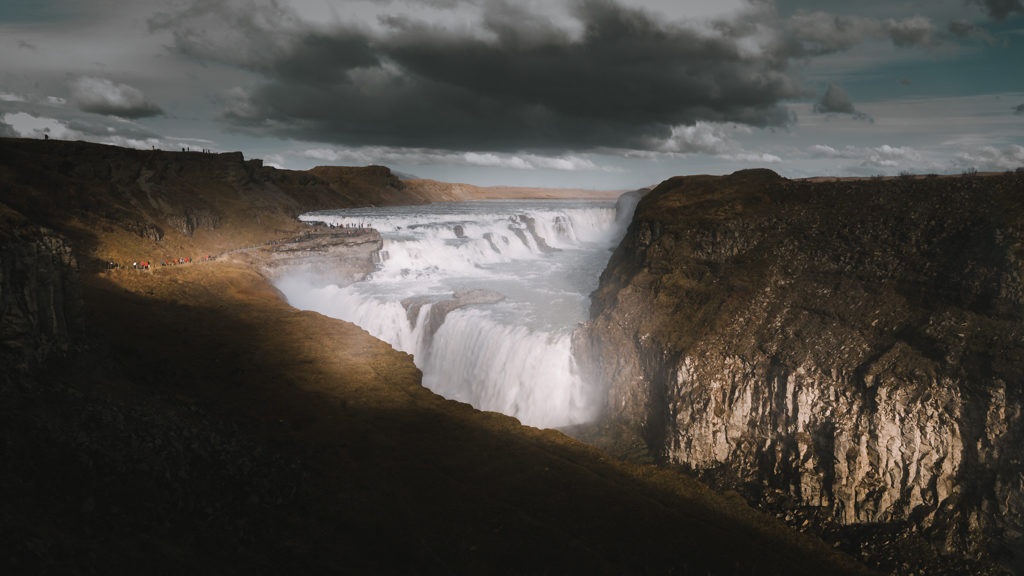 A night under the stars
For our first night as an engaged couple, we got to stay in the most original place in Iceland: a bubble! It wasn't cheap, but we wanted to treat ourselves for one night. Our plan was to watch the northern lights that night, while we were sleeping far away from Reykvavik. Unfortunately the forecast wasn't optimistic. So we had nothing but clouds to watch and a very nice dawn to wake us up. Even though we didn't see the lights, it was a wonderful experience to sleep with the trees around us in a warm transparent bubble.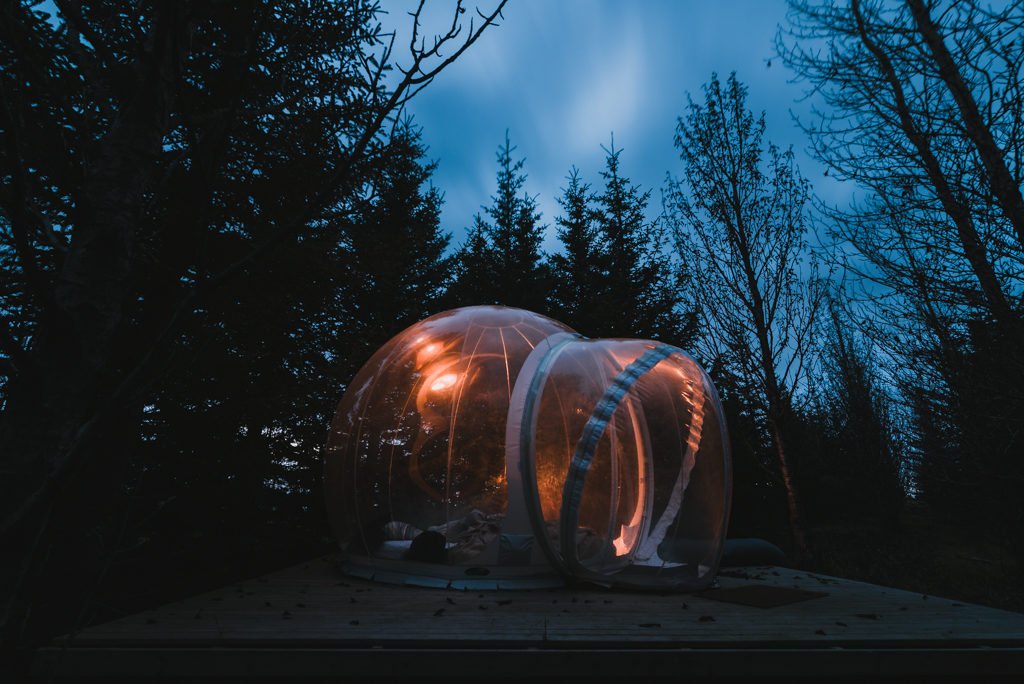 We celebrated our engagement with a beer we bought in a small shop and shared. All food and drinks are very expensive there, and we were on a really tight budget so we could not really afford one each. As we were in the middle of nowhere, we couldn't tell anyone that we were engaged. I quite liked that it was our little secret for a couple of days. And it also gave us some time to discuss about what it meant to us, and how we wanted it to be, before facing our families.
Second day on the golden circle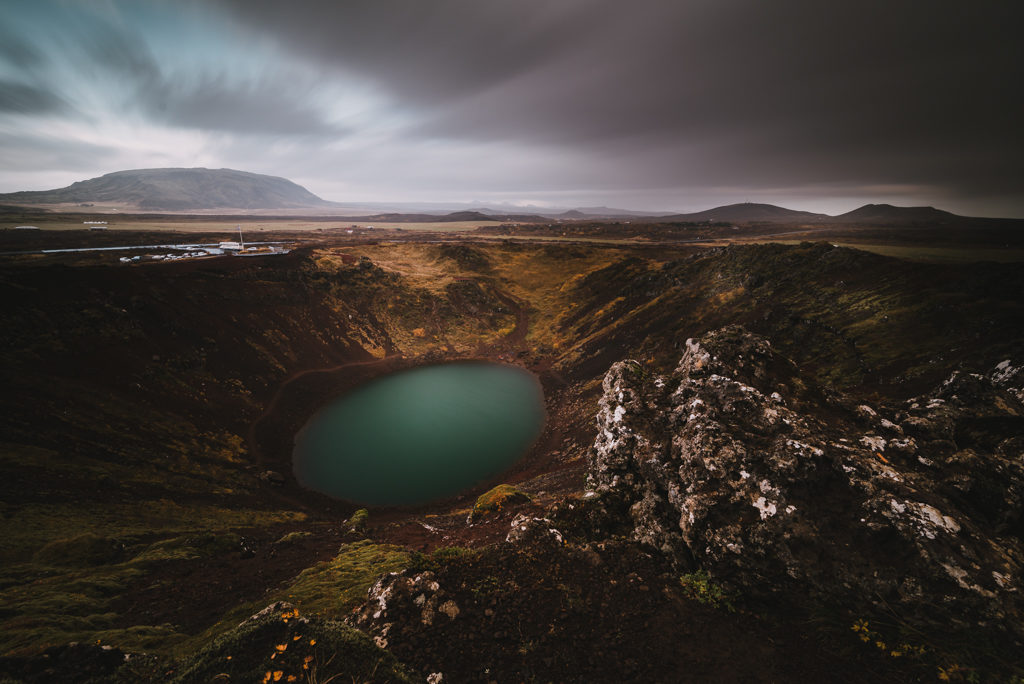 On the following day we finished the golden circle with the Kerið crater. We only stopped for a few minutes there because we got caught by a heavy rain.
We drove south then, to the world-famous Reynisfjara shore. The cliffs are sculpted by the powerful and dangerous waves. They are overlooking a long fine black sand beach.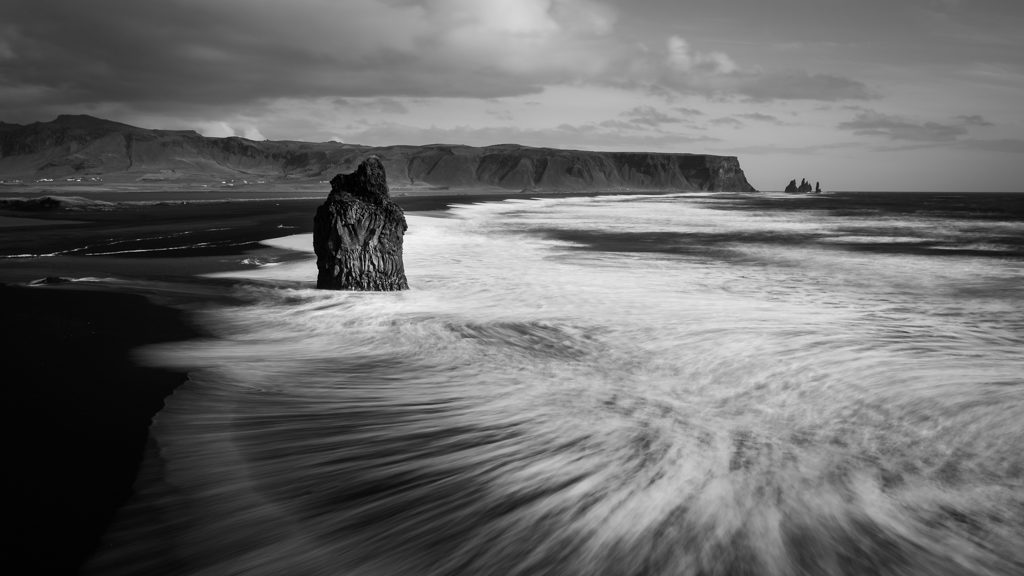 On our way back we stopped to see two famous waterfalls, Seljalandsfoss and Skógafoss.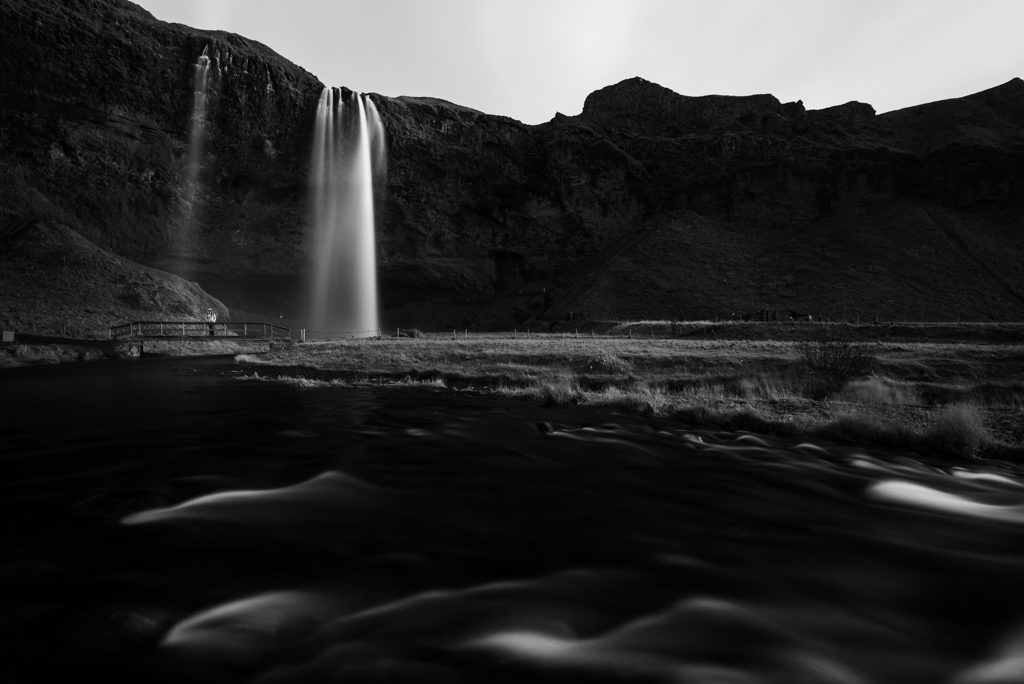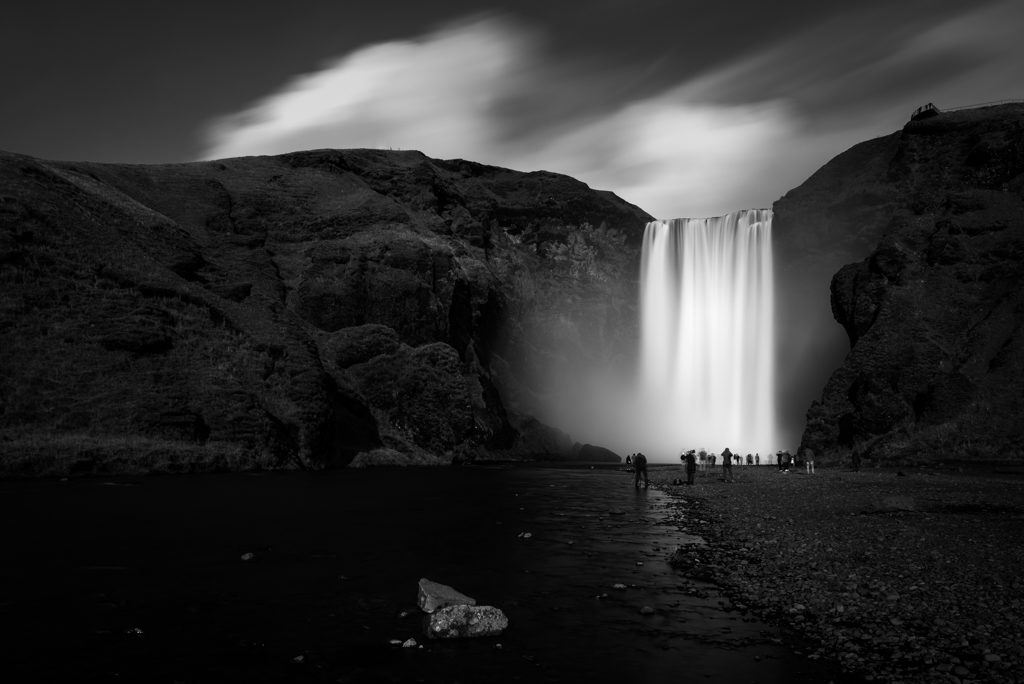 Reykjavik – back to civilisation
On the next day we visited Reykjavik. We mainly spent time seeing and taking pictures of the Sun Voyager, Hallgrimskirkja and the Harpa Centre. It was quite funny when we arrived at the Hallgrimskirkja church. Indeed, facing the church, was a large group of photographers, all wanting to be perfectly centered to take their picture. The result was a pyramid of tripods, on top of each others. We got our picture, but we didn't want to fight for it, so it's not as perfect as Xavier would have wanted it.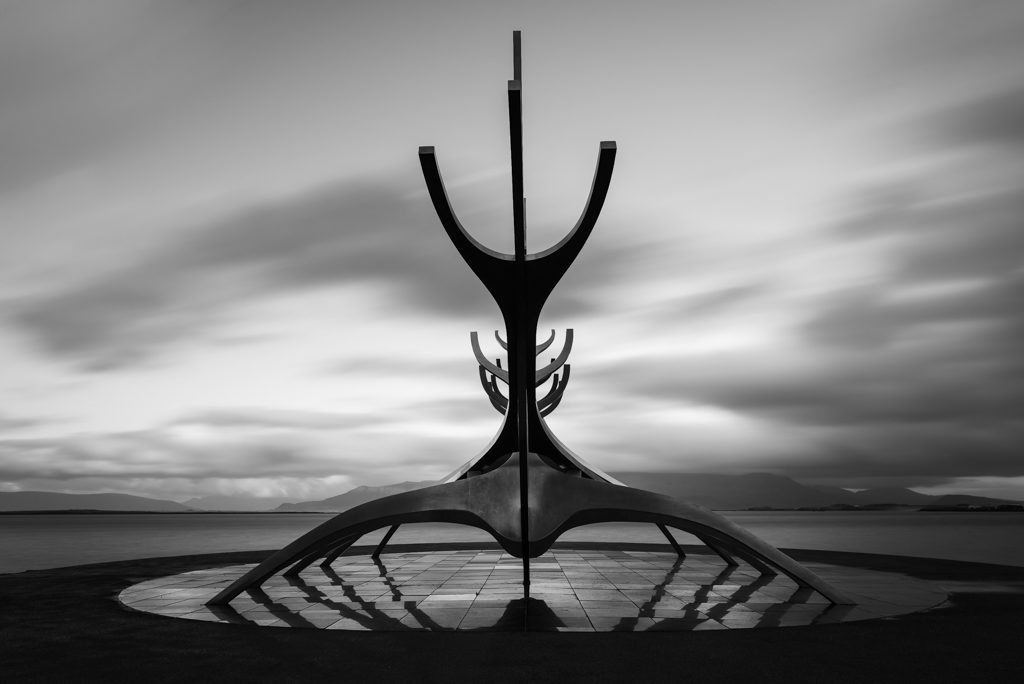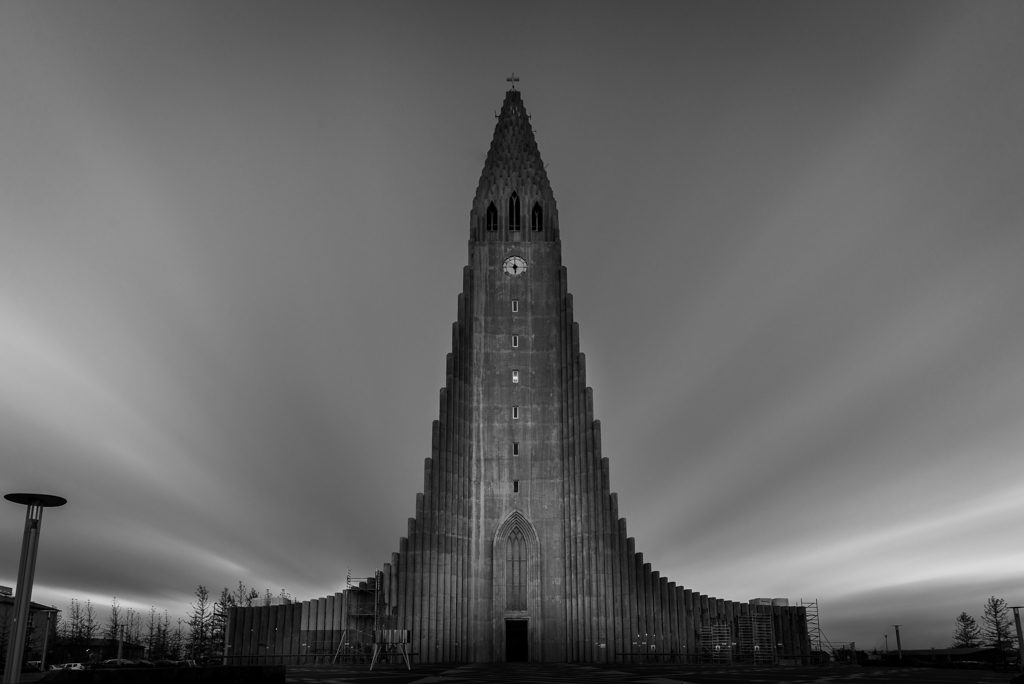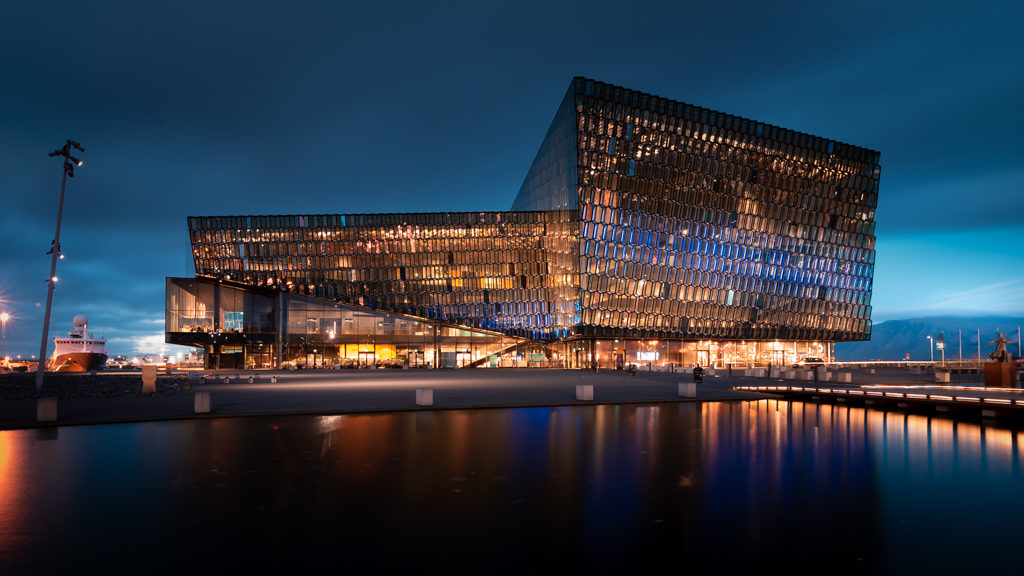 Blue lagoon and ancient lava flows, our last moments in Iceland
On our last day, we drove around Reykjanes peninsula. The landscapes are unique there. They are shaped on ancient lava flows. We found another black sand beach, less famous than the first one, but beautiful. We finally finished our trip with a few relaxing hours in the Blue Lagoon silica-rich water. It wasn't too crowded at the time we picked, so it was perfect !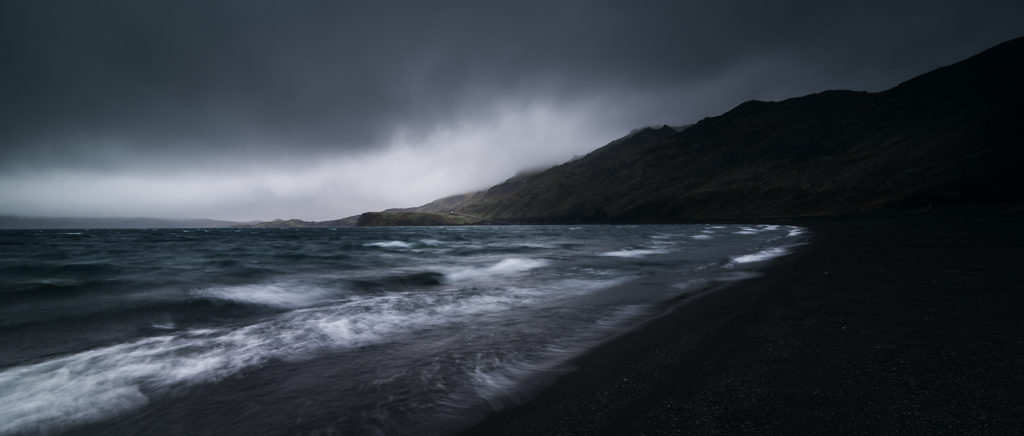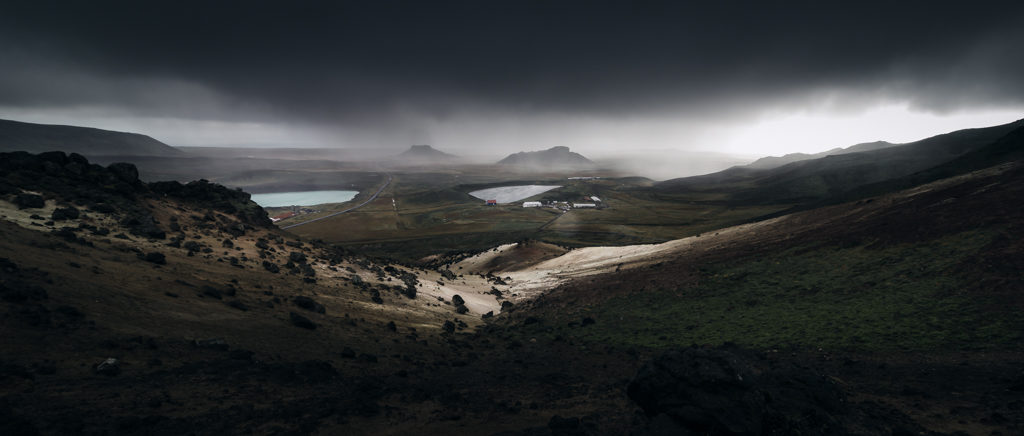 Our trip to the land of Ice and Fire was over. But we have to go back, as we missed the Northern Lights ! If you plan a honey moon or a trip there, and want to take this chance to get professional pictures of your couple or family in these amazing places, think about us ! We would love to go back there and show you around ! And maybe we will be luckier this time and get to see the Northern lights ?